What is a Seismometer?
Some words around earth movement, technology & safety
An earthquake (also known as a quake, tremor or temblor) is the shaking of the surface of the Earth resulting from a sudden release of energy in the Earth's lithosphere that creates seismic waves. Earthquakes can range in intensity, from those that are so weak that they cannot be felt, to those violent enough to propel objects and people into the air and wreak destruction across entire cities.
At the Earth's surface, earthquakes manifest themselves by shaking and displacing or disrupting the ground. When the epicenter of a large earthquake is located offshore, the seabed may be displaced sufficiently to cause a tsunami. Earthquakes can also trigger landslides and, occasionally, volcanic activity.
In its most general sense, the word earthquake is used to describe any seismic event—whether natural or caused by humans—that generates seismic waves. Earthquakes are caused mostly by rupture of geological faults but also by other events such as volcanic activity, landslides, mine blasts, and nuclear tests. An earthquake's point of initial rupture is called its hypocenter or focus. The epicenter is the point at ground level directly above the hypocenter.
A seismometer is an instrument that responds to ground noises and shaking such as caused by earthquakes, volcanic eruptions, and explosions. They are usually combined with a timing device and a recording device to form a seismograph. The output of such a device—formerly recorded on paper or film, now recorded and processed digitally—is a seismogram. Such data is used to locate and characterize earthquakes, and to study the Earth's internal structure.
Seismometer App measures how an earthquake is felt in a certain area, based on the relative effects of an earthquake on structures and surroundings. Seismometer app uses scales that correspond to movement intensity and not magnitude.
This app will run at your command and set an appropriate alarm so to inform you that an earthquake is occurring. It is a really handy function for places with a lot of earthquakes, and really useful especially when sleeping when every little second counts for your own safety.
An app that can possibly save your life.
Features
You afraid if an earthquake will occur? Have this function by your side and be alarmed instantly. An awesome tool for your safety.
PROTECTION
Seismometer will alert you of an earthquake as you can feel it exactly where you are.
LIFESAVER
While at sleep? Will wake you up and save crucial seconds of action. A true lifesaver.
ALGORITHM
A special designed algorithm senses the motion of the device and converts it into earthquake movement intensity.
DESIGN
Continually improving design, to make it easier and handier.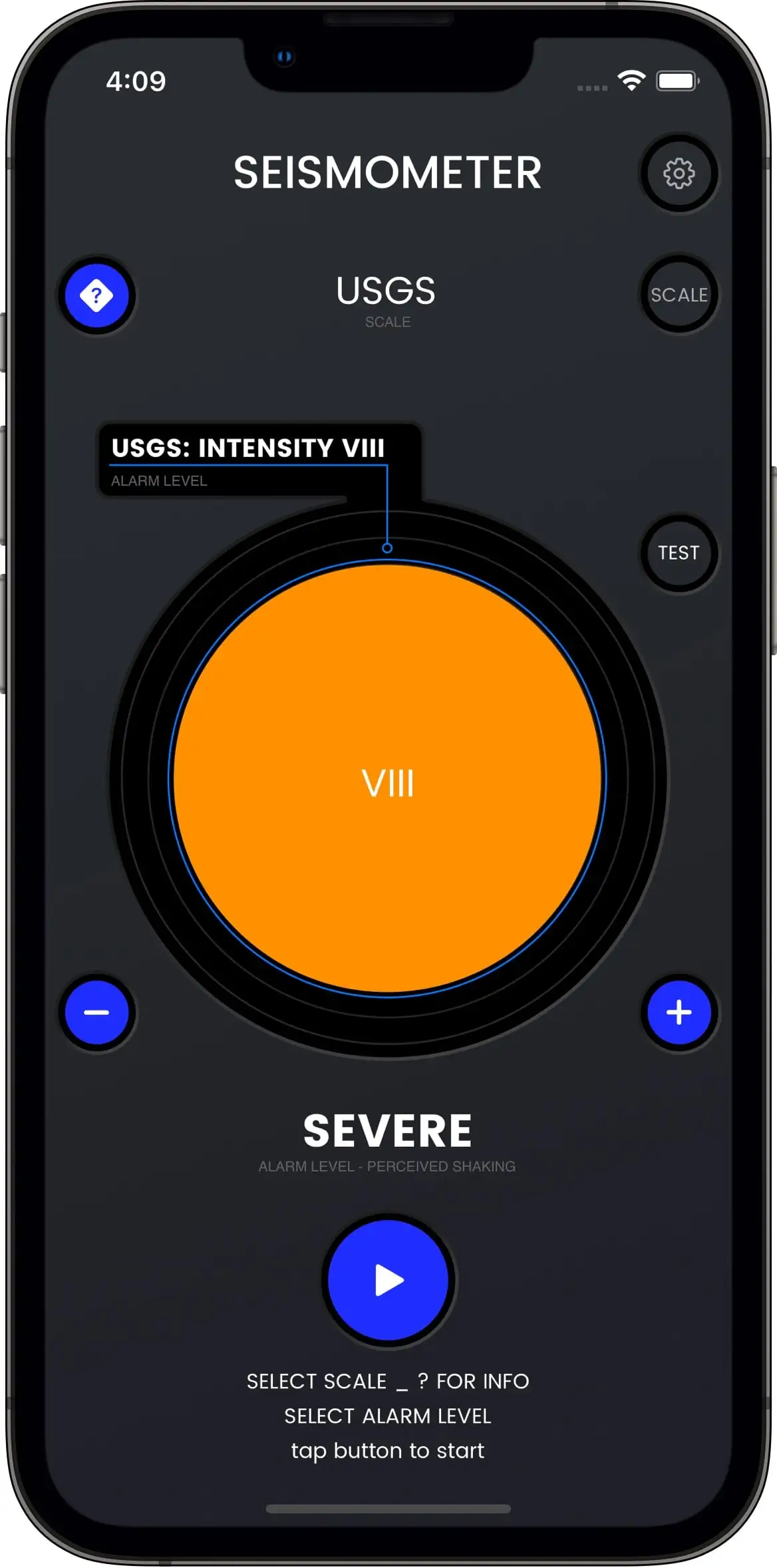 * Used by various academic institutions for demo purposes
EARTHQUAKE SCALES
Cycle through the 4 major earthquake scale: USGS (USA), Shindo (Japan), Liedu (China), Mercalli (World).
HELP ON SCALES
Every scale has its shaking table. Please advise it before choosing an intensity level.
INTENSITY LEVELS
Set the level of perceived shaking (alarm) every scale has to offer.
ALARM
Instant alarm with audio & visual feedback. Press TEST button to see what happens.
NOTIFICATION
Set up this one to get a reminder once a day to open the app. Or disable it.
TIP
This one is really useful for further development. This app is free with no Ads, so give your help to keep it free.
RATE
If you find Seismometer useful, just give it a nice comment. It really helps.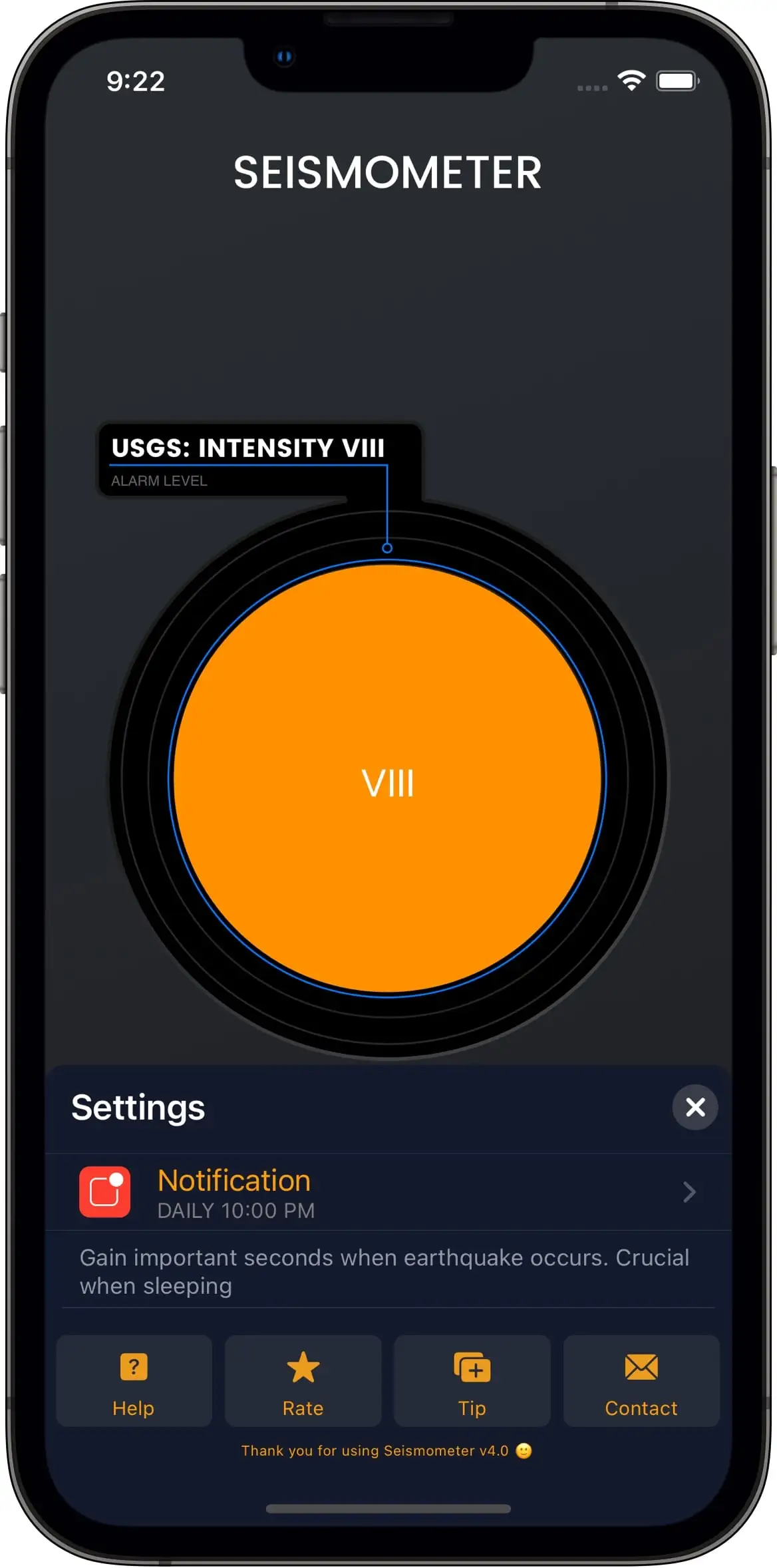 * Thank You for Using Seismometer 😀
MORE TO COME
Intensity scales and further customization are on the way.
HELP
Here you can find anything about Seismometer.
SUPPORT
If FAQ is not enough, we got you covered. Send in your message directly to Support and soon you will get a response.
---
it works very well, very useful. Thanks.
---